Recreational Schedules: Schedules
Arsenal tryouts will begin May 28. Schedules and details are now available.
Choice City Soccer Festival - May 31-June 2 -application deadline May 11 - details
ARSENAL ANNOUNCES 2013-2014 COACHing staff
In anticipation of another successful soccer year, Arsenal Colorado is excited to announce our coaching line-up for 2013-2014. The Club supports a highly trained and experienced staff of coaches for all levels in the Arsenal Program.
:: Details
4 arsenal colorado teams headed to far west regionals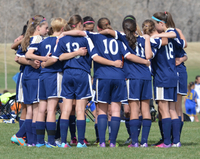 The U13, U16, U17 and U18 girls gold teams are all headed to the Far West Regional Tournament in mid-June. The 13's, 16's and 18's each won the Colorado State Cup Championship for their age group. The U17's earned a wild card berth. The Club congratulates all 4 teams as they head to Hawaii June 15-22 to compete against the other top teams in Region IV. We will track the teams progress through our website, facebook and our blog. Feel free to reach out to the teams and players and encourage them as the compete at the next level.
Adult summer coed team sign-up
The FCSC is currently accepting Team Confirmations for the Adult Coed Summer League. If you are interested in putting a team in the Coed League please submit a confirmation form no later than May 15. If you are a player interested in playing in the league and are not already associated with a team you can call the office and be added to our "free agent" list. The coed season will begin the week of June 10.
:: Details
Matchfit e-counselor available to college prospects
Arsenal Colorado is excited to present MATCHFIT E-Counselor for players who are interested in furthering their soccer careers. Our educational partner, The Sport Source, is providing detailed information and resources for Arsenal players interested in the college recruiting process.
:: Details
Pictures wanted
If you have pictures you would like posted in one of our photo Galleries please submit them to office@soccerfortcollins.org as attachments! We are always looking for more candid and action shots of our soccer players (recreational, competitive and adult).
VOLUNTEER COACHES NEEDED
The FCSC is a non-profit organization that relies on the use of volunteer coaches to help run our developmental (recreational) program. If you are interested in the rewards of coaching your child's team, please indicate your interest on your child's registration form. We have many resources to offer you to get you started! Or contact the office for more information at 970-226-4253 or...
:: Email us: office@soccerfortcollins.org